The CSM1000 Servo motor consumes about 70% less energy and is 40 pounds lighter than the average clutch motor. It does not generate any appreciable heat and has only 3 main moving parts, two ball bearings and the rotor.
The CSM1000 Servo motor acts just like a clutch motor but the difference is that you don't hear it running. It only runs when engaged and the maximum sewing speed can be adjusted to the speed you desire no matter how hard you depress your foot the treadle.

Features:
Brushless, never needs a replacement brushes
Clutch-Less, Never needs a replacement Clutch
Programmable Speed you set your max speed desired
Power switch lights up when on (Diode Light).
Up to 4200 RPM / High Torque 550 watts
Reversible Rotation
110 Volt Light Socket


Shipping Weight 11 Pounds

ALSO IN STOCK..Brushless Servo Motor with Needle Position and speed control.
Functions such as automatic thread trimming, presser foot lifting,
preset stitching, back-tacking and tacking are NOT available with the CSM1000 Servo Motor.
Please read all manufacturers specifications and motor instructions before installation.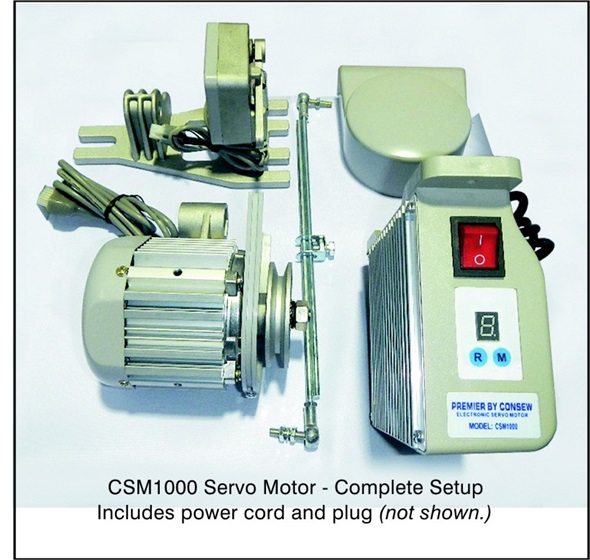 Quiet, No Noise until engaged. Ships with Line Cord 110 Volt AC
Payment Options | Order Information & Tracking

Included;
Pulley| Belt Guard | 3 Mounting Rubber Isolators|
Mounting Hardware | Program Instructions.
Price does not include freight.