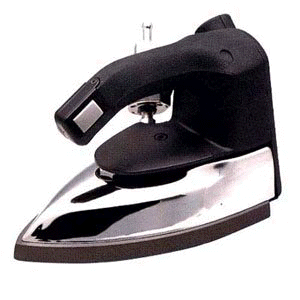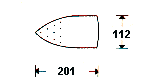 Price $109.99
Includes Water Bottle, Teflon Shoe and Demineralizer! Order Online Below
Top Technology


Model ES-90
High Working Efficiency !
UL APPROVED THERMOSTAT
Electric Power 900 ~1000W
Gravity-Feed Iron with Hard Anodized Base for Both the Serious Home Sewer or Professional !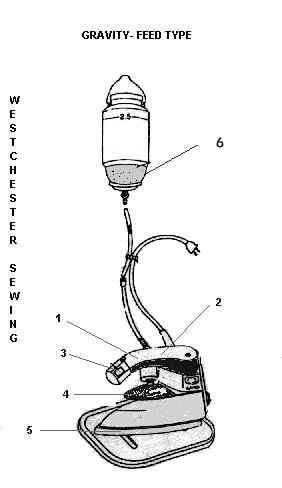 1 - SPECIAL RUBBER HANDLE
PROVIDES SLIP-PROOF AND SURE GRIP, IT ALSO KEEPS HANDS SUPER COOL AND COMFORTABLY SPEEDS UP THE IRONING PROCESS.
2 - UNIQUE SHAPED HANDLE
NO SUPPORT ON FRONT SIDE. THIS MAKES IT MUCH EASIER TO IRON SLEEVES.
3 - SIMPLE BUTTON SWITCH
LIGHT- TOUCH BY THUMB ON SWITCH CAN ACTIVATE STEAM FLOW INSTANTLY.
4 - UNIQUE THERMO-SHIELD
KEEPS HEAT AWAY FROM OPERATOR'S HAND. DESIGNED FOR COMFORT AND SAFETY.
5 - HARD ANODIZED BASE
FOR SUPERIOR PRESSING SURFACE DURABILITY.
6- DEMINERALIZER
USED TO FILTER WATER Prevents mineral clogging in water tank and hose.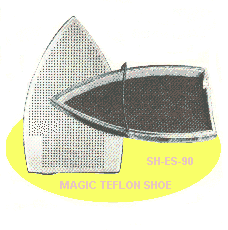 Attach a Magic Teflon Shoe to your iron and say goodbye to press cloths, wrong side pressing, low temperature settings and all the slow, tedious, time-wasting ways you use to prevent that unwanted shine. Made by laminating a thick sheet of the smoothest, slipperiest material known (DuPont Teflon) to a layer of tough aluminum alloy, the Magic Teflon Shoe provides a pressing surface so super slick, that your irons will never again scorch or stick to even the most delicate or difficult-to-press fabrics.
MAGIC TEFLON SHOE
No press cloths needed. Equipped with Magic Ironing Shoes, irons seem much lighter as they glide over fabrics, never leaving a trace of shine. And you can press either side ... even on velvets and velour's.
One temperature setting. Forget fabric switching problems. Just set the temperature once and use it for all your fabrics. Polyesters, cotton, linens, rayon's, silks ... all of them. No time lost testing. No damaged goods.
Fusible interfacings & tapes. Magic Teflon Ironing Shoes glide over even these tricky, sticky materials with no drag, no pulling and no sticky carry-over to soil and damage garments. No time is lost cleaning up messy irons.
Prices do not include freight.
For a freight charge, click on "add to your shopping cart". You will be directed to shipping /destination page.
Please remember ! (nothing is final until you submit your order)