Features;
Shearing action of guillotine type knives, makes straight cuts to any length up to 60"(150cm).
Any width of tape up to 2 1/8" (55mm).
Simplest screw adjustment for changing length of cut. No tools required.
Can be furnished with pre-feeding device for most accurate cuts of elastic materials.

Applications;
Use for most non-elastic materials such as tapes, ribbons, lace, spaghetti, belts, cords and webbing.
Eliminates tedious manual labor, assures accuracy and uniformity of cuts.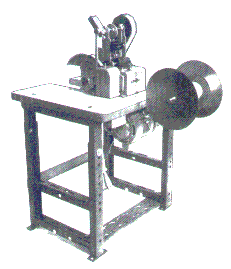 Complete Assembled Unit with Heavy Duty Steel Stand, Formica Table Top and Motor.
Tape Rack (Optional Equipment)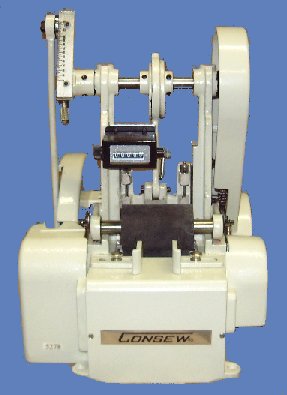 Cutting Size : Up to 60" length & Up to 2 1/8" width
Cutting Speed : 30 - 80 pieces per minute (depending on length.)
STRAIGHT CUTS TO ANY LENGTH UP TO 60" (150CM).
ANY WIDTH OF TAPE UP TO 2 1/8"(55MM).
RE-SETTABLE CUT COUNTER.
TRANSPARENT PLASTIC KNIFE SHIELD.