Features;
Stitch length adjustment by push button
Stitch depth penetration adjustment dials
Swing down, narrow cylinder arm allows for easy insertion and removal of work piece
Easy open, swing away work plate for extended working space
Stitch length max: 2-1/2" (3 mm - 9 mm) s.p.i.
Needle: 300 LG
Looper: 162
Cylinder diameter: 2-1/4" (57 mm)
Work space: 7" (180 mm)
Work plate dimensions: 361 mm x 153 mm
Stitch type: 103

Applications;
Perfect for sewing all weights of materials including synthetics, woolens, cottons, fabric and knits.

1 to 1 non-skip stitches, typical operations include felling edge tapes, bottoms of trousers, cuffs, wigging in sleeves, facings to canvas and knit goods, turned-up bottoms of fully lined coats, padding collars and lapels, and reinforcing seats.

2 to 1 skip stitch for hemming dresses, skirts, slacks, trousers, sportswear, ladies coats, draperies, blouses and other articles.

Suitable for felling operations requiring a skip stitch to simulate hand-stitching.

2 to 1 skip stitch is recommended for synthetics and other lightweight materials and 1 to 1 for heavier cotton, woolen and linen goods.

with SKIP and NON-SKIP STITCH LEVER
SWING DOWN, NARROW CYLINDER ARM
ADJUSTABLE THREAD TENSION
1 to 1 NON-SKIP STITCH AND
2 to 1 SKIP STITCH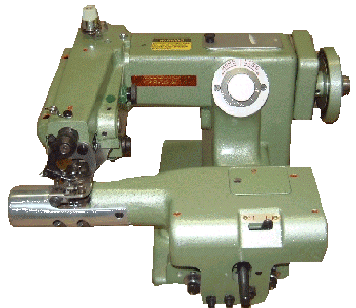 Contact Us for Price.


Phone: 845-627-8873 or / Fax 845-627-6949