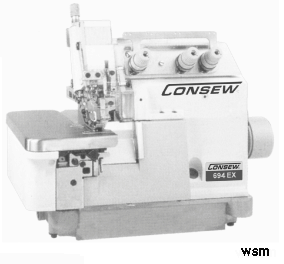 MODEL 693EX Shown
8500 RPM
WITH FULLY AUTOMATIC LUBRICATION

Prices include Assembled Stand with 3450 RPM 1/2 HP Motor. Machine "set up & adjusted".
220 Volt Single or 3 Phase also available upon request.
Consew-690EX SERIES
High-speed, overlock/serger with Fully Sub-Merged Stand
Our Price
693EX 3 Thread - $1,200.00 More info
694EX 4 Thread - $1,250.00 More info
695EX 5 Thread - $1,300.00 More info

Prices do not include freight.
For freight quote, please contact us and supply City, Zip code, business or residential delivery.


View (Fully sub-merged) Stand.

Home Page
WESTCHESTER SEWING MACHINE CO.
Phone; 800-225-8342 / 845- 627-8873
Fax 845-627-6949